(Editor's Note: This post was originally published in May 2019 and has been updated for accuracy and comprehensiveness to include changes due to COVID-19.)
Sun, sand and seafood can be found at most beaches. But sometimes, you want a quieter experience. The locals describe Bethany Beach as "low and slow." Low, because it is on the lower end of Delaware, and slow because the pace of life is much more relaxed. But low and slow doesn't mean you can't have a great time.
In fact, here are 4 Fun Things to Do in Bethany Beach, Delaware.
New Rules in Place Due to COVID-19
According to the Visit Delaware Travel Advisory and What to Expect When Arriving in Delaware pages, Bethany Beach has now reopened to the out-of-town general public as of June 1, with certain guidelines in place:
•   Face coverings must be worn in public spaces like the parks and the boardwalk; facemasks are also encouraged on the beach
•   Social distancing is still in effect everywhere outside the home, so please be sure to maintain six feet of distance between yourself and anyone outside the small group you traveled with, even when you are outdoors.
•   Handwashing is very important to keep your hands clean and germ free, so be prepared to wash regularly and bring hand sanitizer with you
•   Limited capacity in stores for the time being. You may find an employee outside the shop counting customers and controlling the number of people allowed to enter. Be prepared to wait your turn.
•  Reservations required at all restaurants and historical attractions while social distancing guidelines are in place. You can expect fewer patrons, restaurant tables spaced further apart, paper menus and waiters with masks. An employee may be at the door helping you to sanitize your hands upon entry.
•  Guarded swimming began at 9 am on May 23 and lasts the duration of the summer
•  The beach and boardwalk are closed from 1 to 5 am daily
•  Pay-to-Park and parking enforcement began on June 1 and will be in effect for the rest of the summer
Bethany Beach and the Boardwalk
It's true that sitting on the beach with the waves crashing in the distance is a great way to unwind from the stress of everyday life. The briny smell of the ocean, the noisy cries of seagulls, and the gentle heat of the sand beneath your feet provide a multi-sensory experience that heightens the feeling of escape.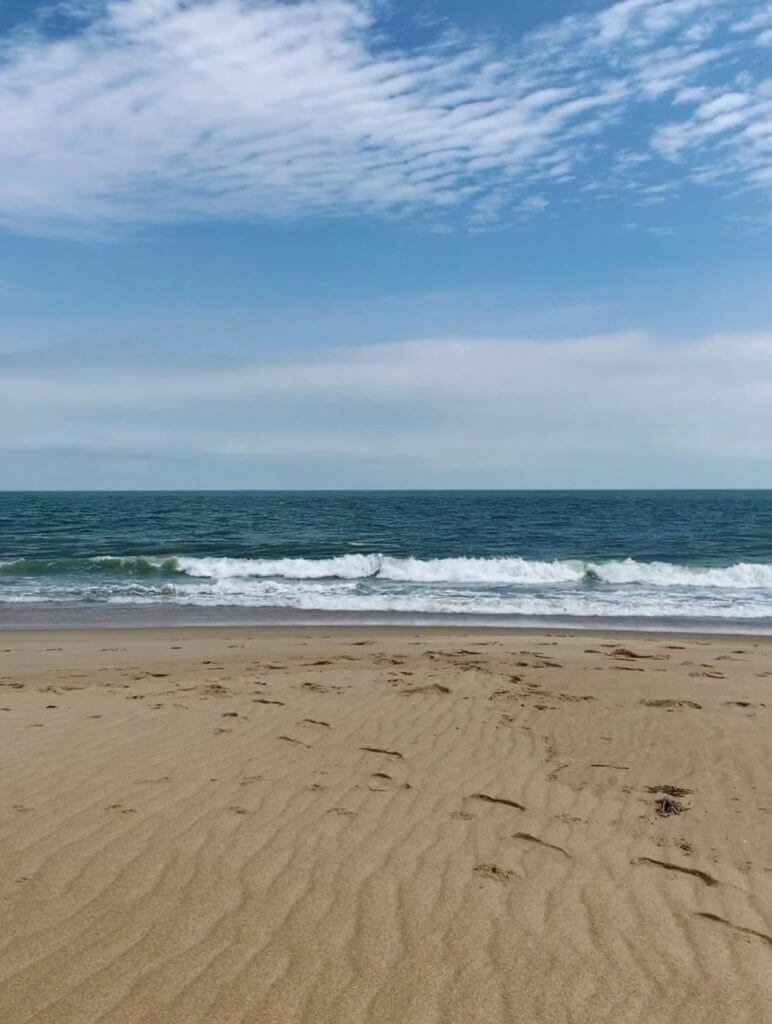 In early May, I had a girlfriend's weekend getaway at a very nice beach that was new to me in lower southern Delaware. My former college roommate needed a weekend away to revive her energy before the end-of-school-year chaos. Since childhood, her favorite place to escape is Bethany Beach. It's a quiet, family-friendly beach and a perfect location to relax and recharge. And, she said, there are a lot of fun things to do in Bethany Beach Delaware.
After being there a couple of days, I realized one of the many reasons Bethany Beach is memorable is the long stretch of soft, white, sand. The town takes great care to keep the beaches clean of debris. They also plant sea oats to help contain the dunes and use wooden wire fences to clearly mark the paths down to the beach.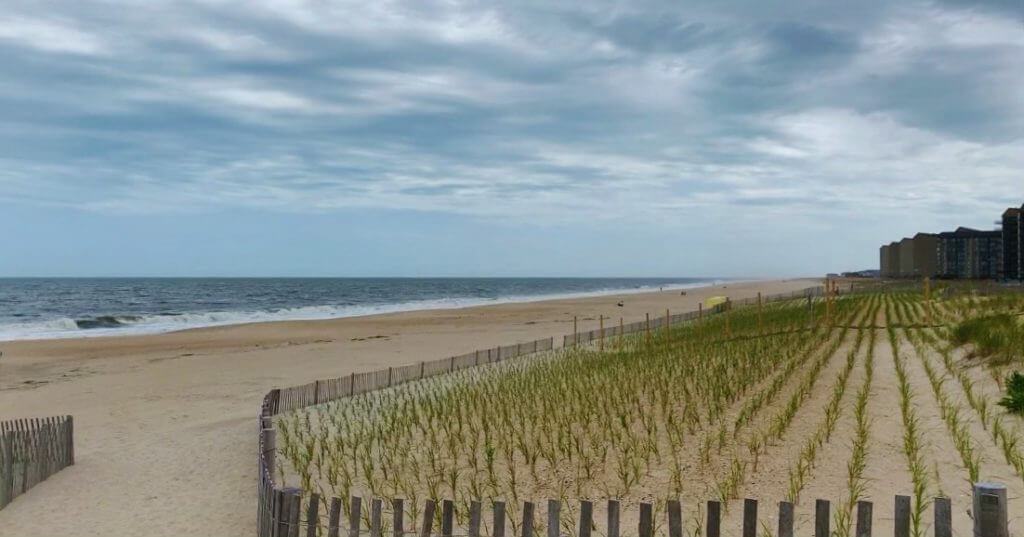 Dogs are only allowed on Bethany Beach from September 30 to May 15. Since we visited during dog-friendly season, it was fun to watch a black lab repeatedly chase a Frisbee into the waves. His owner passed the Frisbee to anyone who walked by.  His energy, she said, was infinite.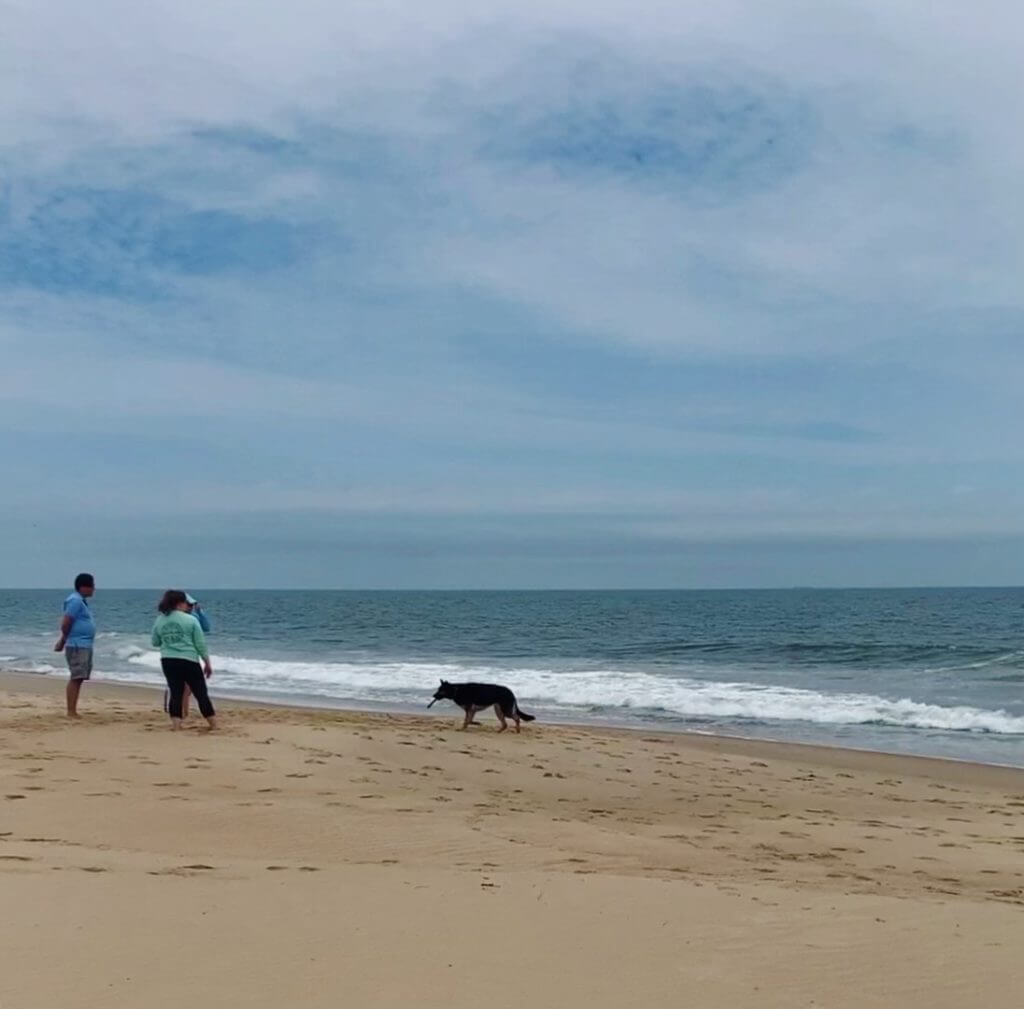 Bethany Beach also has a nice little boardwalk. Strolling along the wooden deck with the Atlantic Ocean over your shoulder is a wonderful way to get daily exercise. A complete loop registered less than a mile on my iPhone's health app, but it was easy to power through it by focusing on the fun little gift shops, ice cream and dessert offerings, and other beach favorites along the boardwalk.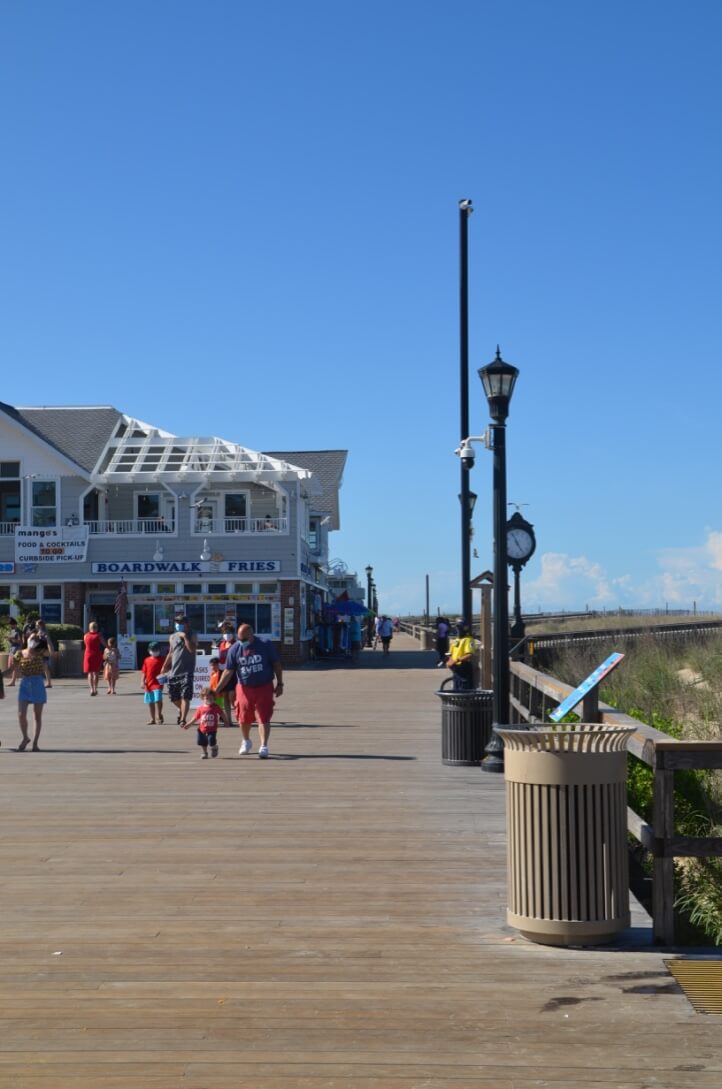 Bethany Beach Boardwalk (June 2020)
Bethany Beach Nature Center and Conservation Area
Away from the beach, we found a different slice of natural Bethany. The older I get, the more I appreciate the effort it takes to keep the beaches and bays intact and healthy. The Bethany Beach Nature Center and Conservation Area is an interesting place to understand the big picture of conservation.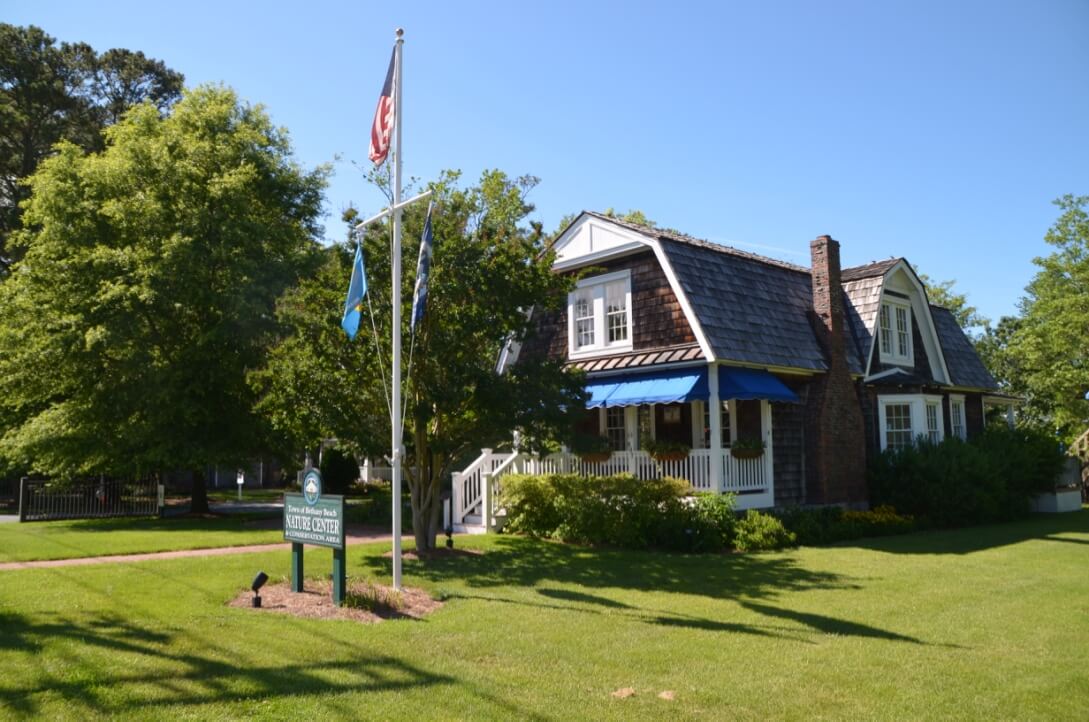 Inside are exhibits designed to explain the important ecosystem of the bays and efforts to sustain it for future generations. Outside, visitors can explore 26 acres of forests and wetlands.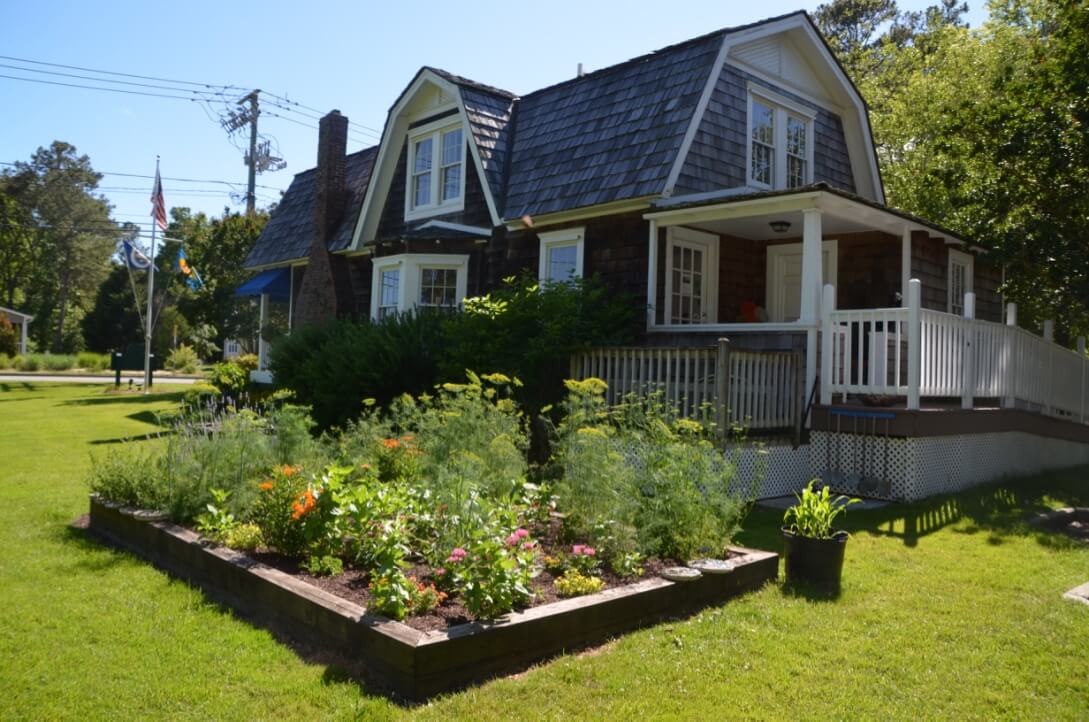 To set the historical perspective, the nature center is housed in a wonderful old house, circa 1902-1903, with a native plant garden in the back. It was built by John Addy, one of the original settlers of Bethany Beach. The purpose of the Bethany Beach Nature Center and Conservation Area is to raise awareness and educate the public about the need to protect and preserve Delaware's natural habitats.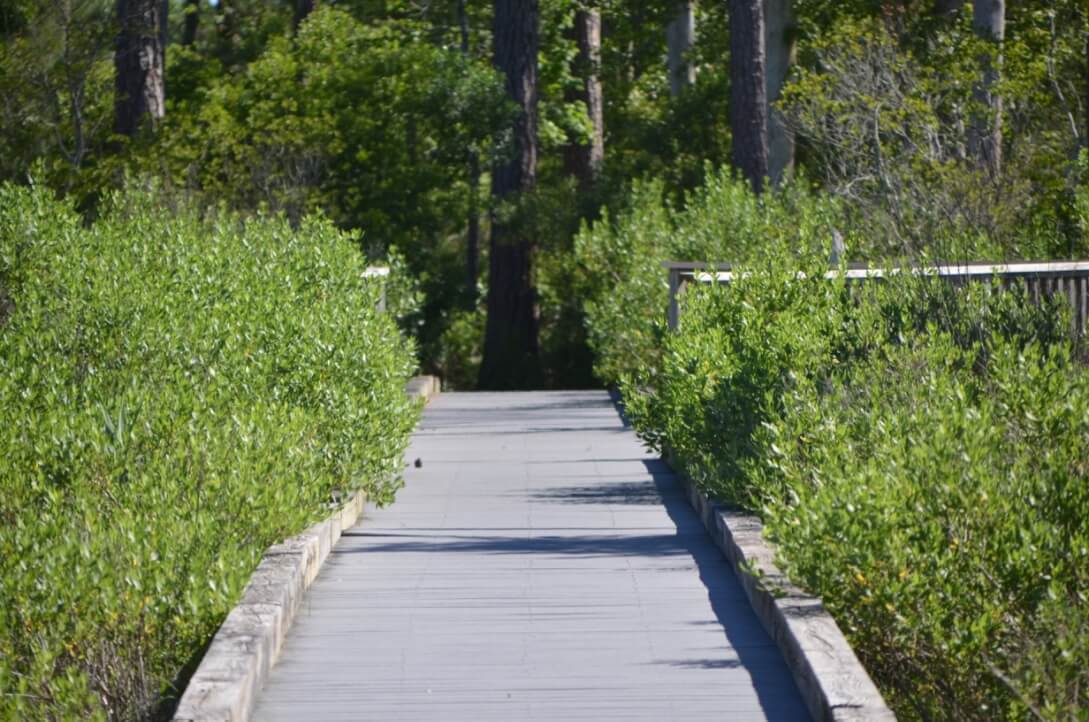 There is a wonderful walking path behind the house that takes you out to the wetlands. It starts out as a dirt path but then becomes a wooden boardwalk.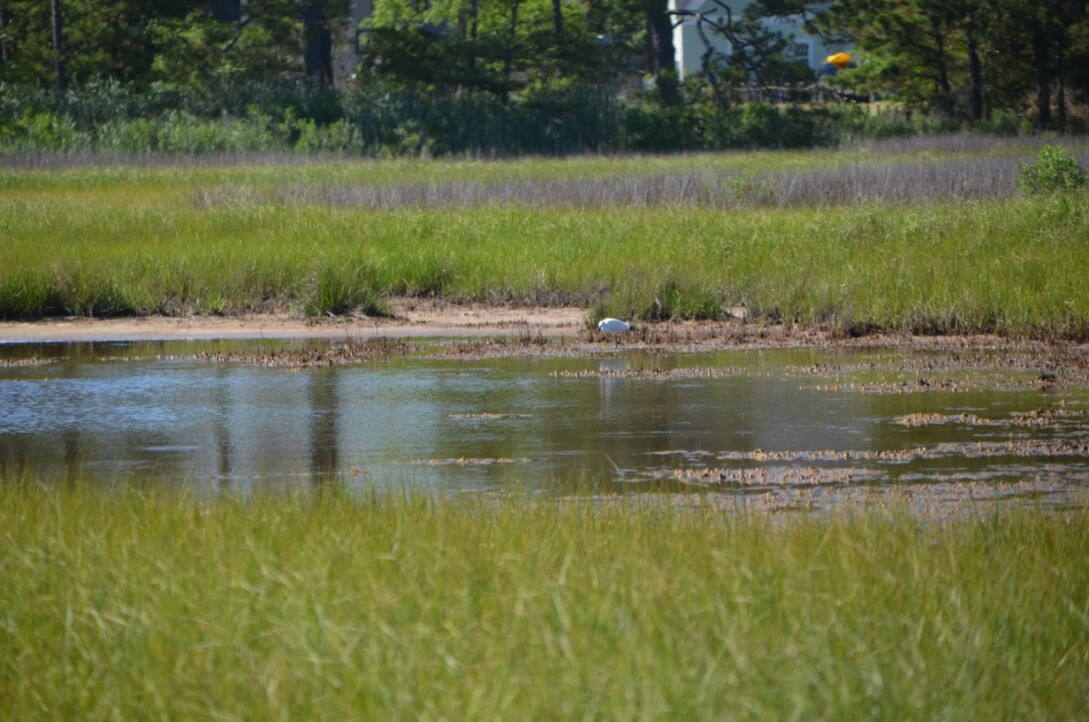 The path is popular with both locals and visitors. I saw a woman walking a dog and an older couple (all wearing masks) who said they come every day. They pointed out the white crane by the marsh and a large bird on a nest up high. It looked like a bald eagle from a distance.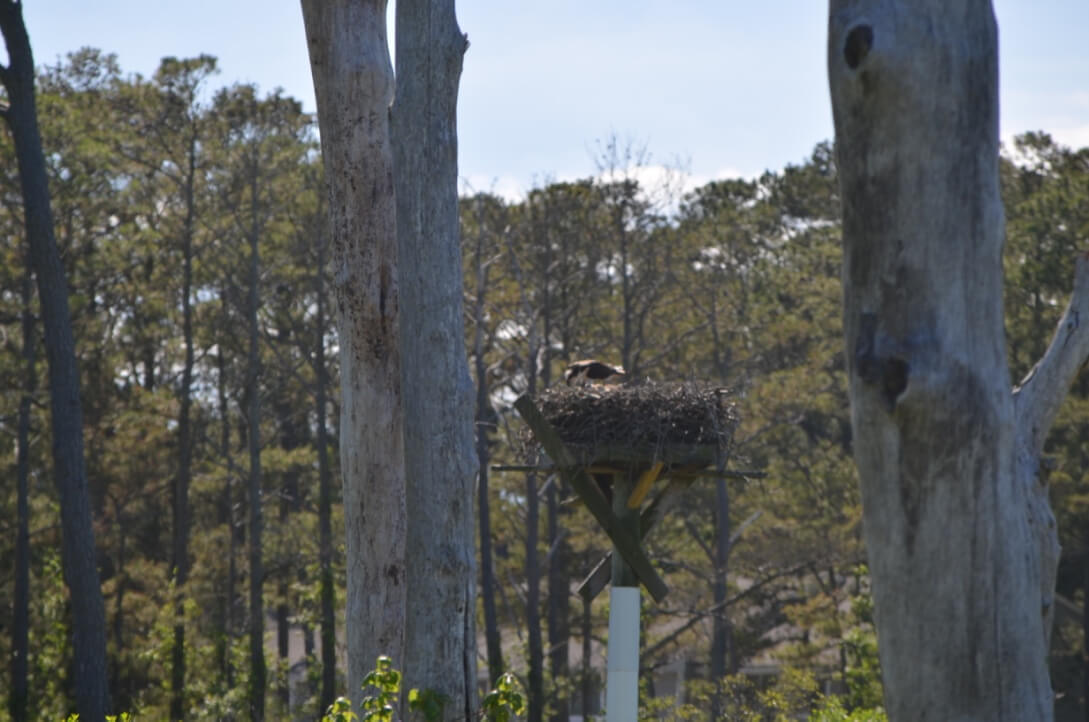 As a gardener, I particularly appreciated the signs throughout the property and on the boardwalk by the marsh which explained the conservation efforts, the significance of the wildlife areas and the importance of growing native plants..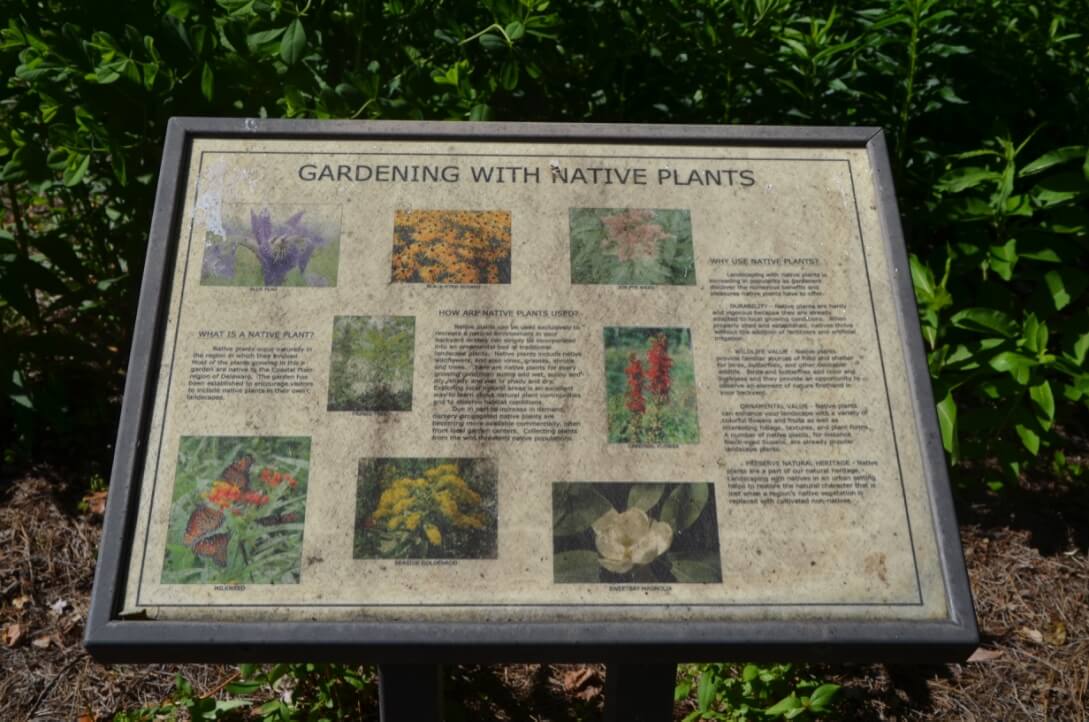 By the driveway, there was a covered picnic area which would be a nice safe place to eat outside. Visiting the Nature Center is truly one of the educational and fun things to do in Bethany Beach, Delaware.
Bethany Beach has quite a few dining options from small, cozy places to larger family- friendly options.
 Beach Break Bakrie & Cafe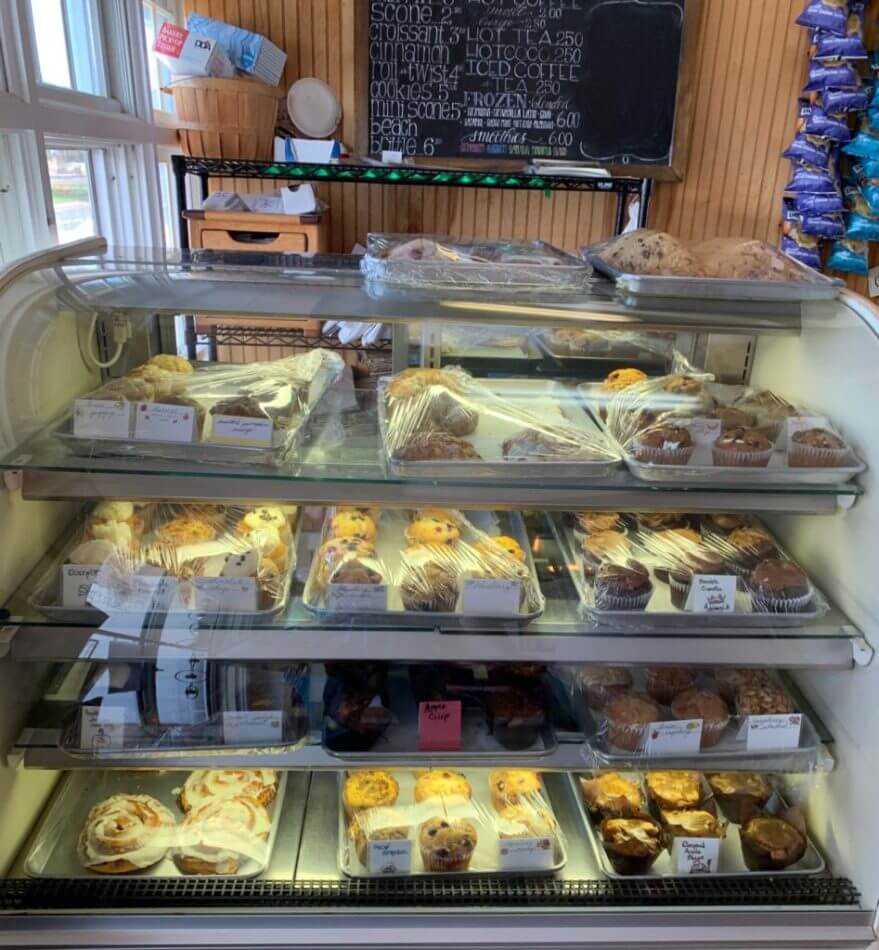 To me, one of the special joys of being on vacation is waking up to coffee and sweets for breakfast. Unfortunately, we failed to pack them, so we hopped in the car and headed to Bethany Beach's downtown shopping area. It didn't take long to follow the scent of warm baked goods to Beach Break Bakrie & Café. 
This little shop offered fresh coffee, muffins, scones, bagels, breakfast sandwiches and several types of cookies. While the seating area was minimal, the young staff was attentive and friendly. Muffin flavors ranged from standards like blueberry to more unique options like Caramel Apple Pecan. Before leaving, I picked up a bag of mini-scones to take back to my family so they could appreciate one of the fun things to do in Bethany Beach Delaware.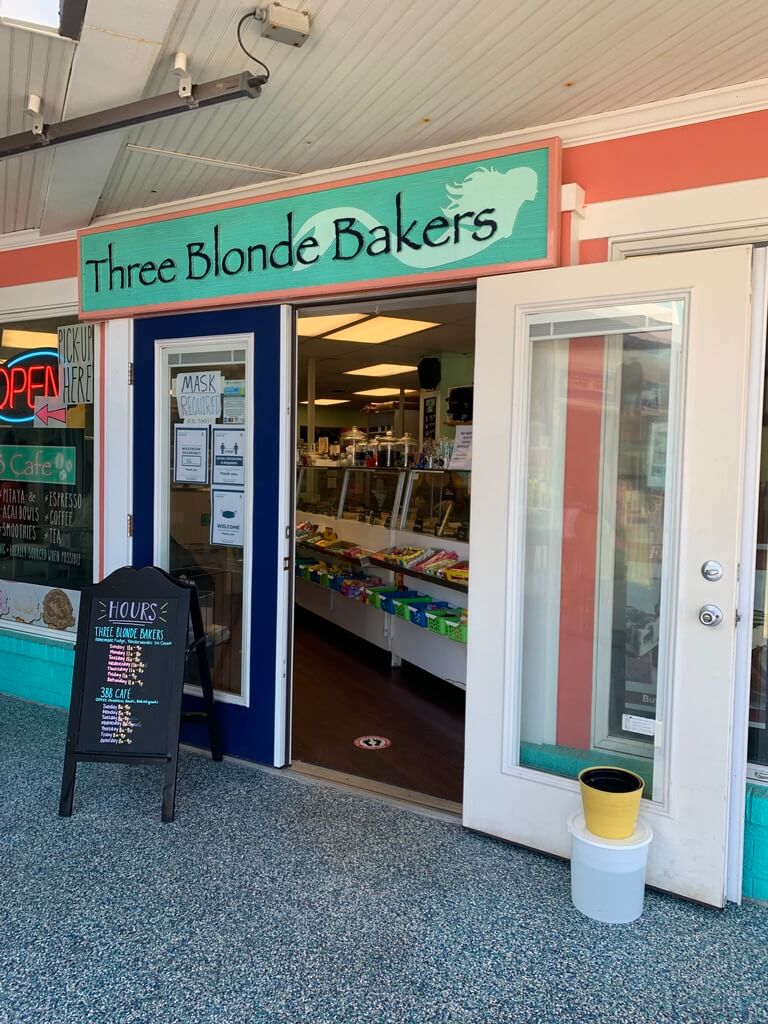 I admit it – I have a serious sweet tooth, and a weakness for bakeries. The clever name of this shop and the sweet smell of chocolate drew me inside.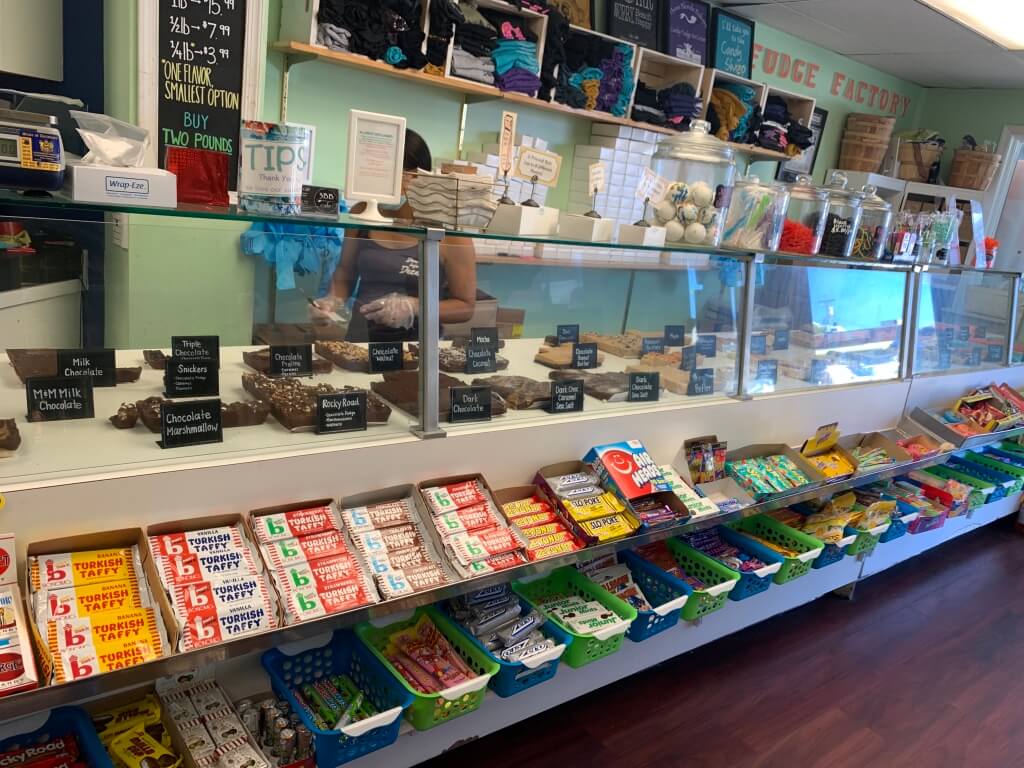 I can imagine that it takes a long time for families to make their selections. There are so many fun choices. I ended up choosing both Heath Bar and Butterfinger fudge. Honestly, it was worth every calorie – rich, creamy fudge that tasted fresh and melted in your mouth. Yum!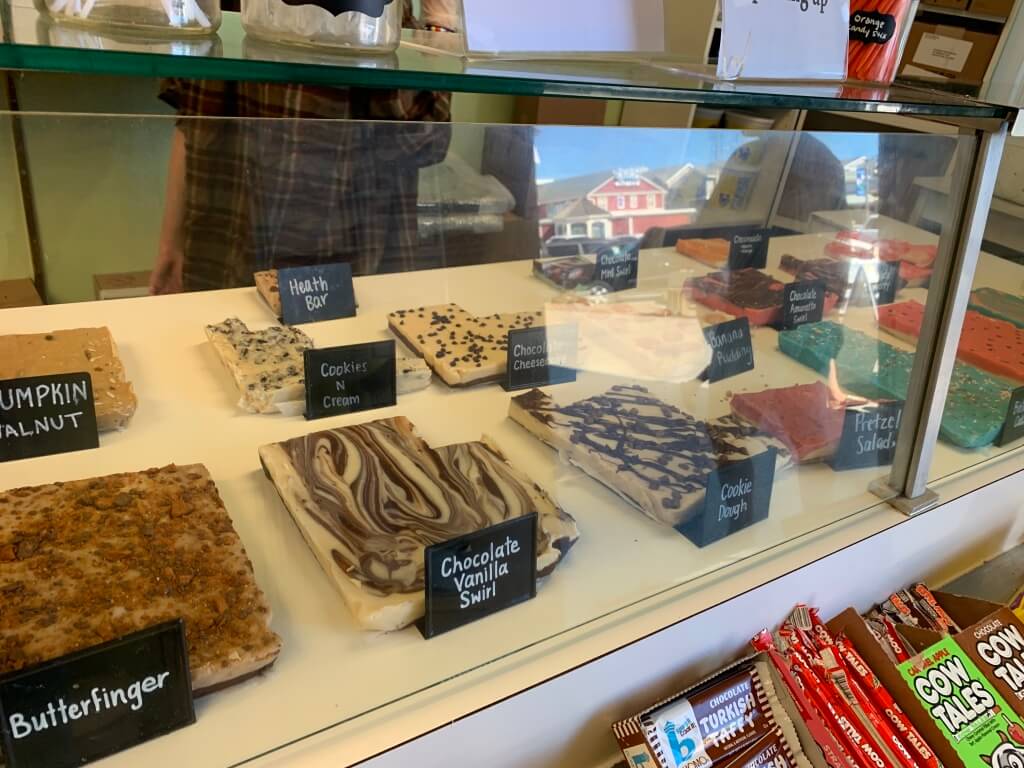 Mickey's Family Crab House
When you're on vacation, one of the most important meals of the day is dinner, don't you think? My friend and I both love seafood which is another reason why we got along so well as college roommates. That night, we really wanted to try somewhere new. Luckily, we met a family on the beach who recommended Mickey's Family Crab House.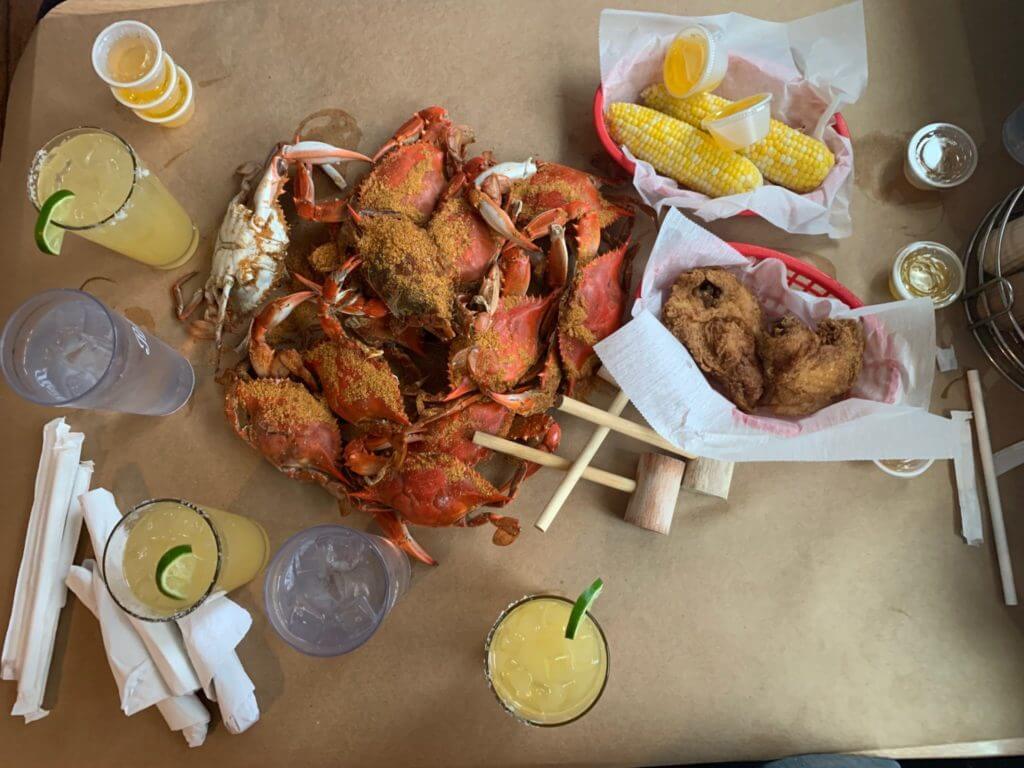 Mickey's is very busy in high season but well worth the wait. With an outdoor area with benches and a bar inside, the short 10-minute wait that night was easy. The restaurant is actually larger than it looks from the outside. Inside, regulars and visitors packed the tables.
A small display of local merchandise, such as Mermaid Bath Salts, helped augment the beach vibe. They cleverly put out a sample in the bathroom that came in handy after dinner. Like most seafood restaurants, the tables were covered in brown butcher-block paper. I always appreciate this version of a tablecloth since it makes me feel less self-conscious once I start making a mess cracking crabs.
The menu included all the seafood favorites – from fish tacos, steamed clams, fish n' chips, jumbo lump crab cakes, snow crab clusters, to Alaskan King Crab legs, tuna, Mahi, and plenty of shrimp (served fried/coconut/grilled).
We were so excited when our waiter mentioned that it was a great year for blue crabs. It's been a few years since they've been plentiful. To celebrate, we chose margaritas and all-you-can-eat blue crabs which were accompanied by corn on the cob, chicken pieces, hushpuppies and plenty of melted butter. Yum!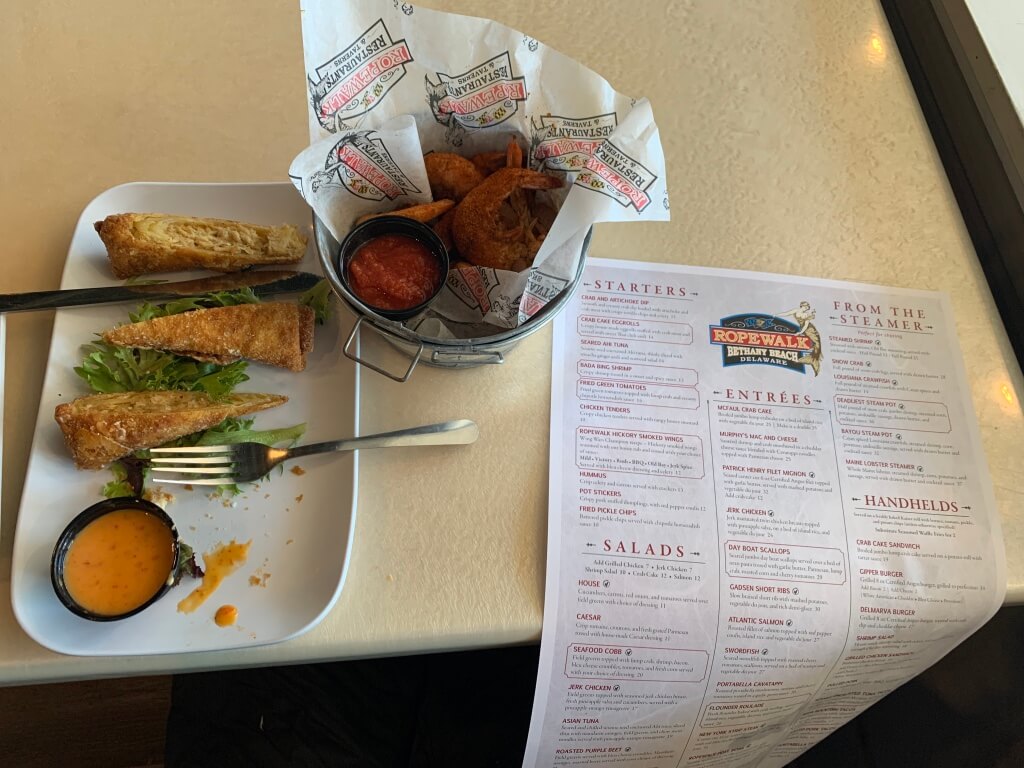 Late afternoon the next day, we stopped by for a drink and appetizers at Ropewalk, one of the oldest restaurants near the boardwalk. The delicious choices pictured above are steamed shrimp and crab cake egg rolls. Cooked to perfection!
Sunset Views at Mason Dixon VFW Post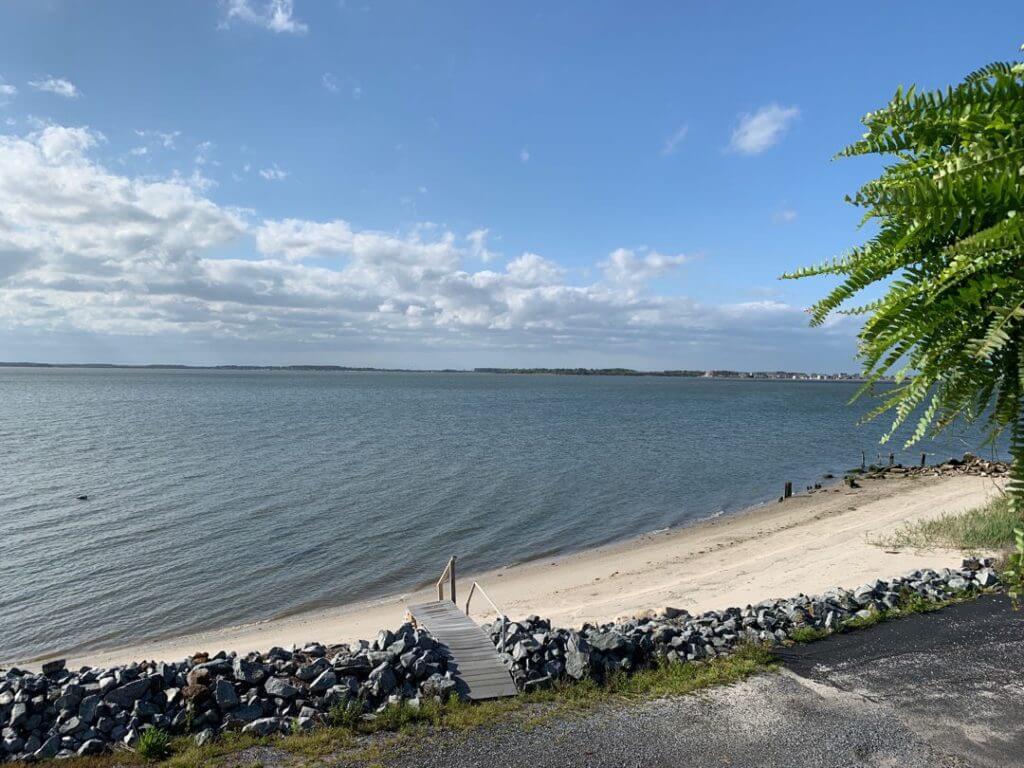 That evening, we tried something new. Ocean View is the next town over, and it's less than 15 minutes from Bethany Beach. My friend had heard that the sunsets over the bay are incredible.
One of the lesser-known places to grab a drink and enjoy the local atmosphere is the Mason Dixon VFW Post 7234. Inside is a restaurant and bar with a dance floor. I had never been to a VFW Post before but they are a common sight in many East Coast beach towns.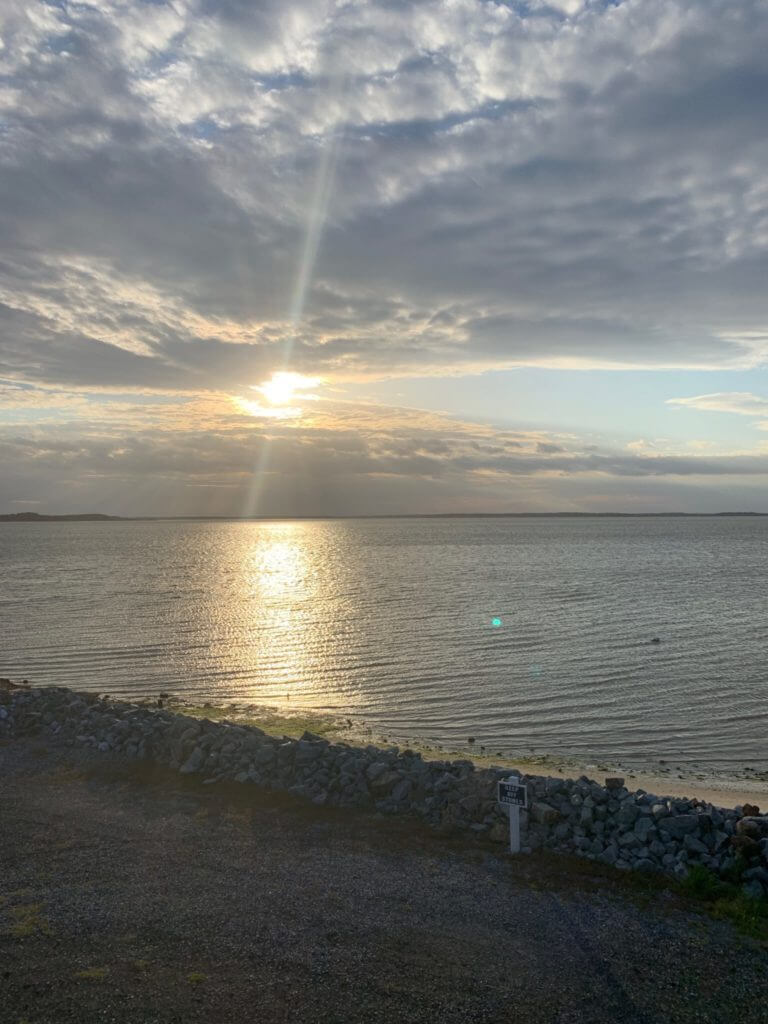 In addition to providing an exclusive gathering place for local veterans which pays tribute to their service, VFW posts often hold events to welcome the public. The week we were there, the Mason Dixon Post offered a buffet on Thursday night which is how we got in.
The location was truly special as it was built with an outdoor seating area out back perched along the bay. We got there early and drink in hand, watched the sky until the sun set into the clouds low on the horizon. It was a lovely way to end the day.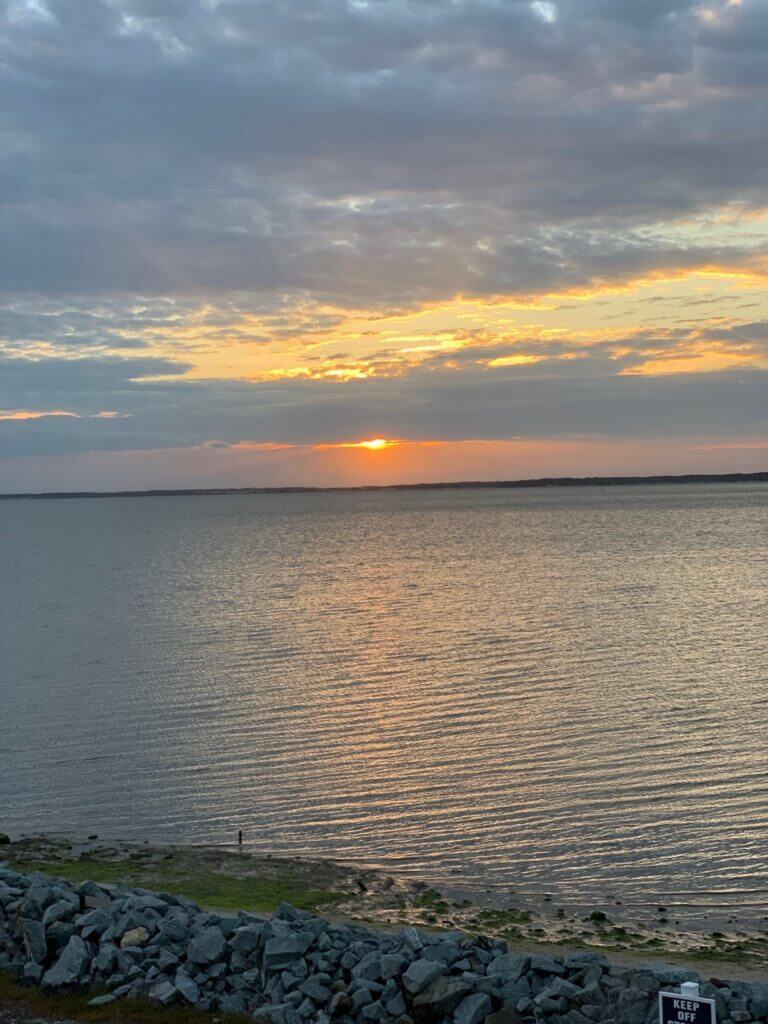 Shopping in Bethany Beach
It's hard to resist a little vacation shopping when you hear Delaware is a tax-free state. We waited until the last day because by then we knew Bethany Beach had charming shops to tempt our wallets. The town designed the shopping area with plenty of parking and more than a dozen shops to choose from.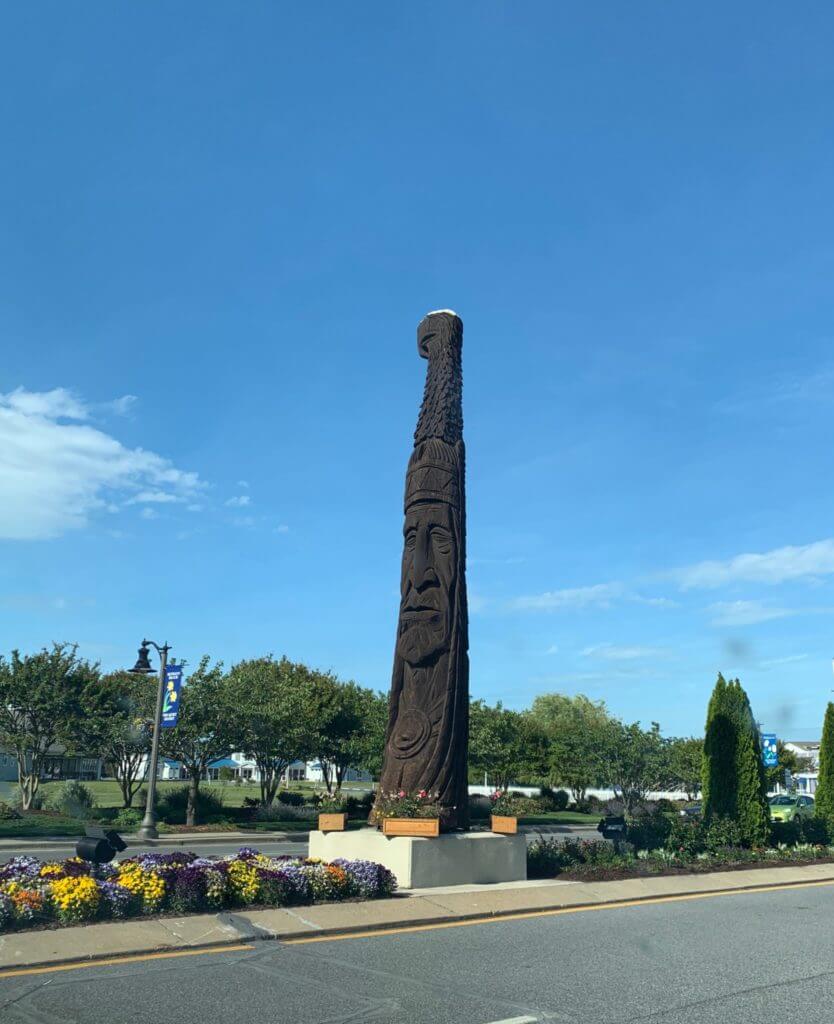 To help visitors find the main entrance to the downtown shopping area, Bethany Beach erected a large dark totem pole as a visual marker. We noticed it made a great meeting point for groups who were looking for fun things to do in Bethany Beach, Delaware.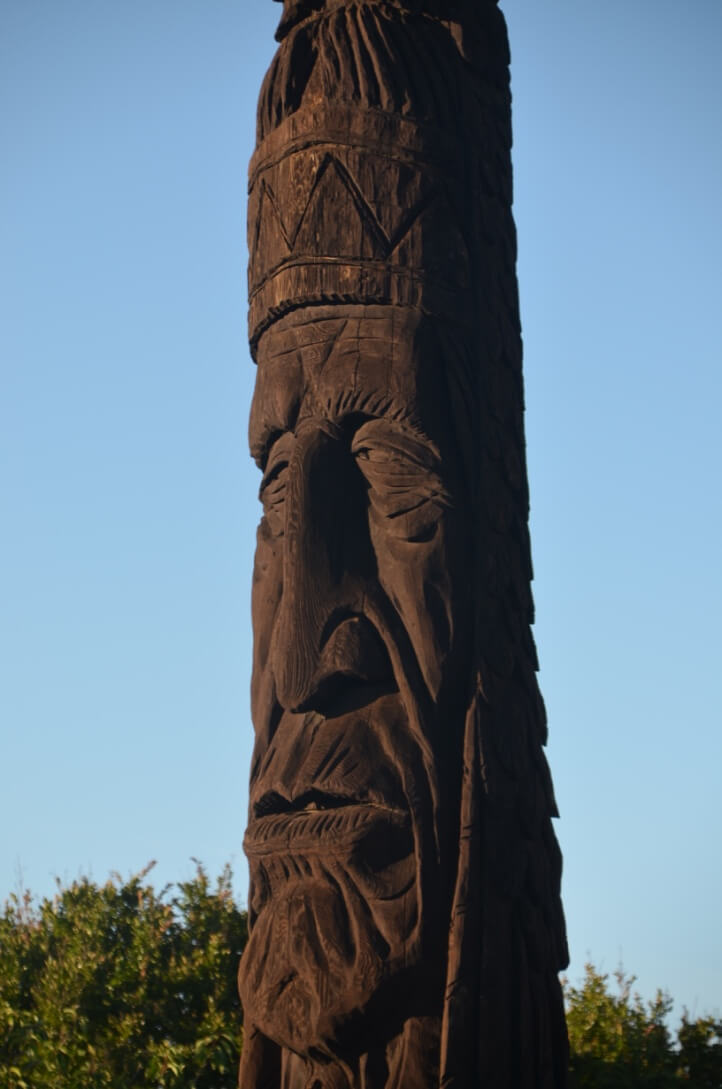 Chief Little Owl is wonderfully carved, and it's worth it to walk closer so you can really see the amazing detail. He is 24 feet high and carved from red cedar from Alaska. The totem pole honors the Nanticoke Indian nation.
During the dedication in 2002, it was blessed by a descendant of Chief Little Owl. This amazing piece of native art is part of the "Trail of Whispering Giants" project. Totem poles of famous Indians have been donated to all 50 states, as well as to a few provinces in Canada.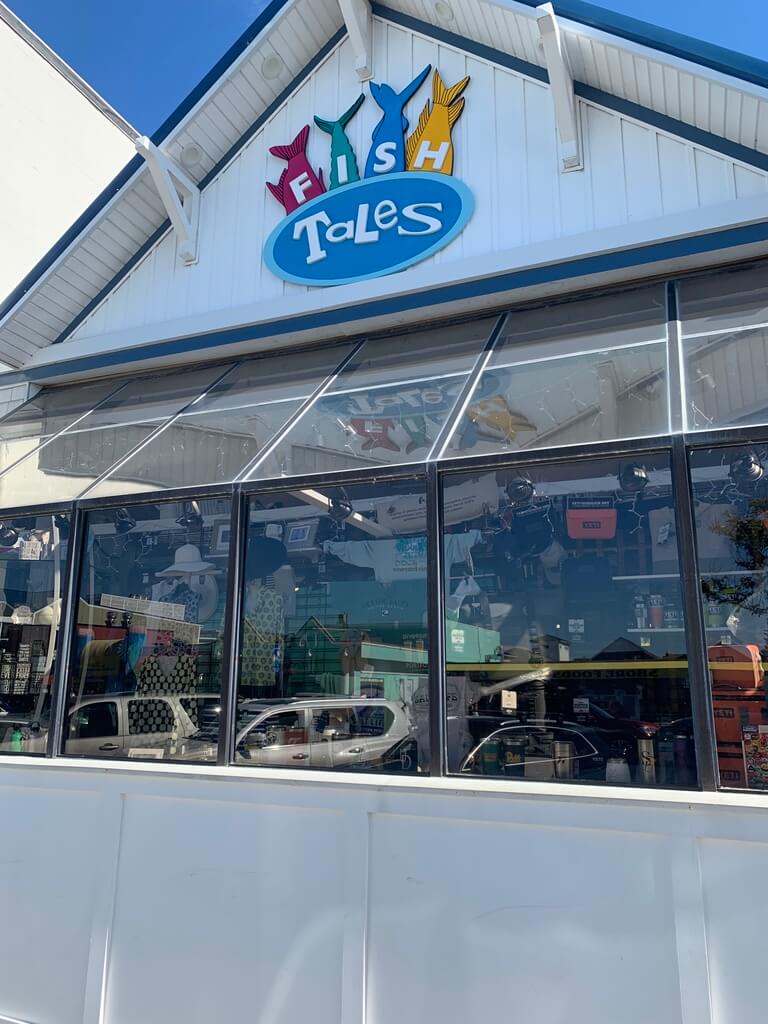 A block or two beyond the totem pole, we found parking. After paying the meter, we turned around and saw a nice little boutique called Fish Tales which carries something for everybody. You'll see brightly colored scarves, bags and wallets from Lilly Pulitzer, Scout, Bay Dreams and Vineyard Vines, as well as gift items and home decor.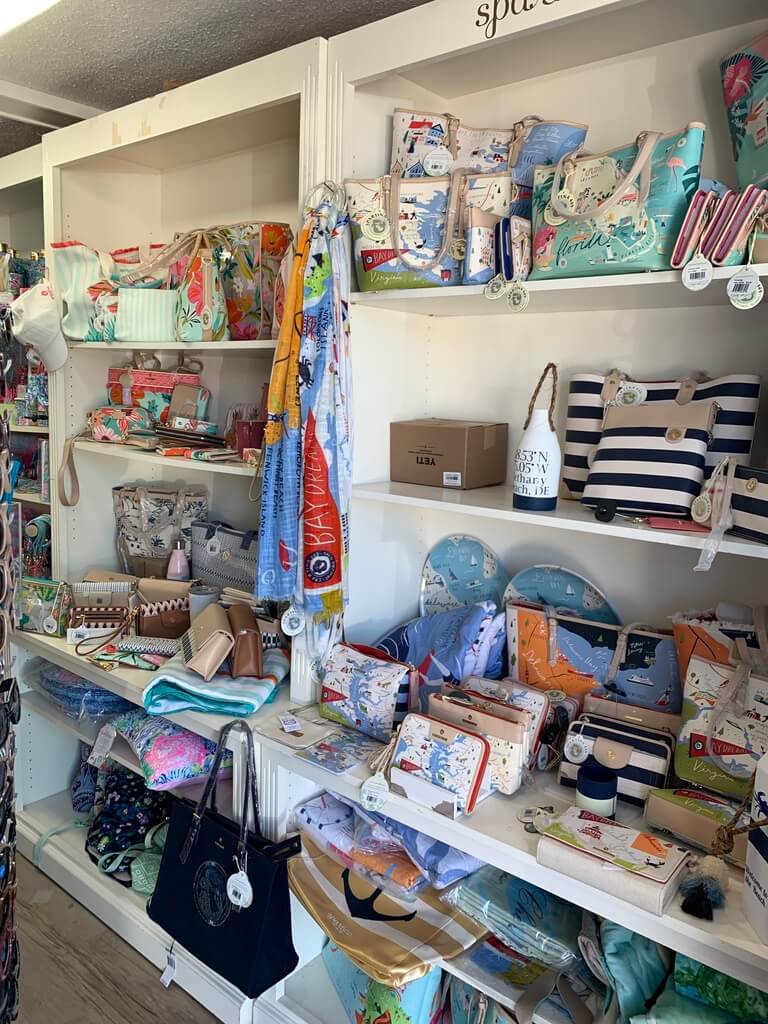 Fish Tales also carries a number of short- and long-sleeved shirts with designs by the brand "Life is Good." Shelves full of jigsaw puzzles, sun shirts and bathing suits for children attracted young mothers. Some of the fathers were checking out the drinkware from Yeti and Swig, as well as sweatshirts and t-shirts with Bethany Beach logos. 
Across the street, we found a cute shop for pet lovers. I have a dog, and my friend has two so we had no choice but to go inside Yuppy Puppy.  Brightly lit and nicely laid out inside, this quaint shop has dog food, treats, leashes, collars, toys and clothing for fur babies. The owner's dog served as store mascot and greeted each newcomer by showing his personal approval of the merchandise, particularly the treats.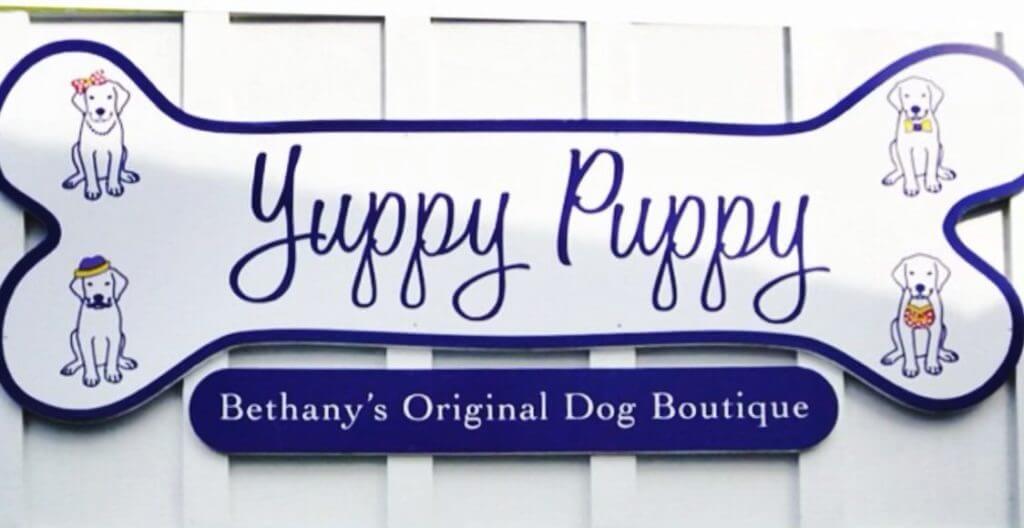 Japanesque Fashion & Gifts Shop
Japanesque was another great store to visit. This cute, quirky little shop featured clothing, jewelry, scarves, greeting cards, and lots of fun Japanese items. The store's owner started it after falling in love with Asian items on a trip to Japan. She wanted to share her favorite cultural mementos such as kimonos, tea sets, origami creations and more with people back home. 
It's also interesting because there are both stylish and unexpected items. Maybe it was the remorse of having to leave the beach in a few hours or the fact that we were in there so long, but my friend and I each left the store with new additions to our summer wardrobe and unique gifts. It was a nice high note to end our girlfriends weekend at the beach.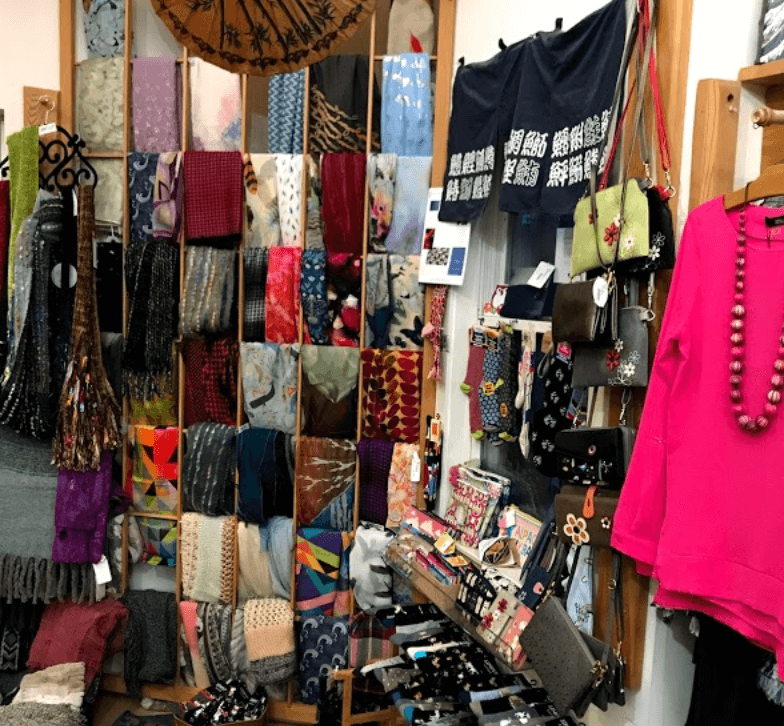 Although it was my first visit to Bethany Beach, it won't be my last. Low and slow was a perfect way to unwind at the shore. And, I am happy to say, there really are a lot of fun things to do in Bethany Beach, Delaware.
What's your favorite thing to do at the beach? Please share it in the comments below.